Visiting Boats
St Marys Harbour is Scilly's principal port, offering a safe haven with a range of visitors mooring buoys and pontoons for dinghies alongside the harbour wall. Full details on harbour facilities can be found at www.stmarys-harbour.co.uk
We are situated on St Marys Quay, the heart of boating on Scilly, and are delighted to welcome visiting boats throughout the year. We offer the following products and services:
Marine Diesel (red diesel /gas oil)
Unleaded petrol (gasoline)
Bottled Gas
Pre-pack paraffin
Lubricants & boat care accessories
Laundry services
Boat deliveries
For any of your marine needs, call "Sibleys Fuelling" on Channel 12, telephone us on 01720 422431, or come and find Clive, Ian or Tim on the quay (look out for our bright blue boiler suits with our company name on the back!).
We are open from 08.00 to 17.00 Monday to Friday, and from 08.00 to 12.00 on Saturdays. Sundays and Bank Holidays by arrangement.
Fuel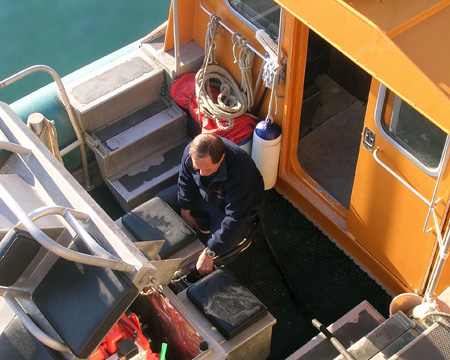 Petrol and red diesel (gas oil) are available direct into your boat from our new fuel kiosk, situated directly in front of the harbour building.
Petrol and red diesel (gas oil) are available in cans, all day during normal business hours or from our pumps situated at the rear of the harbour building on St Marys Quay.
The opening hours of our fuel kiosk are:
Monday – Friday 08.00 to 11.30 & 13.00 - 16.30
Saturday 08.00 to 11.30
Sundays & Bank Holidays By arrangement
We are stockists for Calor Gas, Flogas and Camping Gaz.
On very low tides, the berth will be inaccessible for many boats. Check Mobile Geographics for tidal information, or give us a call on 01720 422431 for personal advice.
Oils and Lubricants
We are agents for Shell and Comma lubricants, and hold a large stock of quality marine oils and greases, in addition to a wide range of forecourt accessories.
Laundry
After a few days on the water, why not let us take the bother out of washing those dirty clothes! Call in and see us, and we will arrange for collection, washing and delivery of your laundry.
Boat Deliveries
Run out of time (or inclination!). Need to get back to work? Let our highly qualified and experienced staff take the strain by delivering your boat to / from the mainland, France or Ireland.
Clive Sibley is Merchant Navy trained, and holds a Class 2 Officer of the Watch qualification. Ian Sibley holds the RYA/DOT Yachtmaster Certificates of Competence (Offshore) for both sailing and motor vessels, and is an RYA Cruising Instructor.