Holidays on Isles of Scilly: Tresco Island
Scilly's only privately-owned island, Tresco has been leased by the Dorrien-Smith family since 1834.
It is an island of great diversity, having high heather downs to the north, a wooded interior and low sand dunes in the south.
The well-provisioned Tresco Stores, Post Office, Bike Hire, New Inn pub and Gallery Tresco can be found at New Grimsby, on the western side of the island, whilst Old Grimsby to the East boasts the beachside Ruin Restaurant and Sailing School.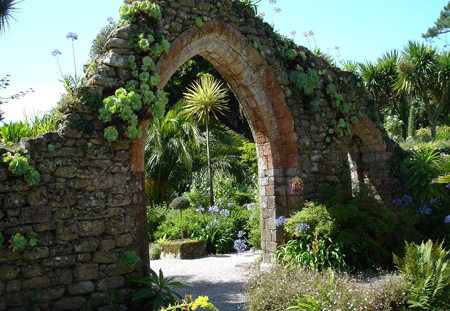 One of the main highlights of Tresco is the world-renowned sub-tropical Abbey Gardens, a sheltered haven supporting over 20,000 species of plants from around the world, centred around a granite archway from a 12th Century Benedictine priory.
Photo: Simon Colson
Great Pool, at the southern end of the islands just inland from Abbey Gardens, is a magnet for wildlife enthusiasts. Purpose-built hides around the pool's edge provide the perfect place from which to view wildlife in this tranquil setting.
To the north of the island the scenery changes dramatically. The land rises up to high heather moors, terminating in rugged granite cliffs overlooking Shipman's Head on Bryher, Round Island Lighthouse, Men-a-Vaur , St Helens and Tean. Within this area you will find the ruined King Charles' Castle, the remarkably well-preserved Cromwell's Castle and Pipers' Hole, a cave penetrating deep into the island and no doubt used by smugglers in days gone by. Come well-prepared with torches or candles and explore within, finding the inner pool, hidden beach and rocky arches.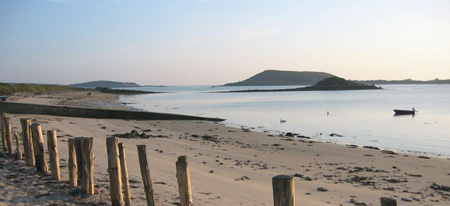 On the eastern side of the island the Block House, an ancient gun tower, protects old Grimsby, whilst some of the finest white-sand beaches on the islands overlook St Martins and the Eastern Isles.