Holidays on Isles of Scilly: St Agnes Island
The UK's most south-westerly outpost, St Agnes is just a mile wide and home to a small farming community of just 72 people.
It is joined to the small private island of Gugh by a sandbar, covered by the sea at High Tide, either side of which are beautifully sheltered bays ideal for swimming.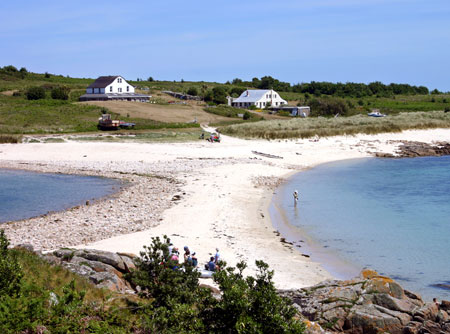 One of the islands' most iconic pubs, the Turks head, overlooks Porth Conger, a favourite of visitors and locals alike, and just a minute's walk from St Agnes Quay. Other popular eating establishments include Covean Cafe and Coastguard's Cafe, which changes management in the late afternoon and re-opens for evening meals as the High Tide Restaurant.
Home made ice-cream can be found at troy Town Farm, using milk from their own dairy herd, whilst organic fruit and vegetables can be bought from several stalls around the island.
An impressive whitewashed lighthouse stands at the highest point on the island, although it no longer contains a working light, having been superceded by Penninis Lighthouse on St Marys many years ago.
Wingletang Down, on the southern end of the island, is a fine sweep of heather covered moorland with some fantastical rock formations, notably the famous Nags Head which keeps watch over these southern shores.
A favourite pastime on St Agnes is searching for Venetian glass and beads at beady Pool, the cargo of a 17th century Dutch trading ship which foundered on these treacherous shores. Further around the coastline you will find Troytown Maze, reputedly built by a bored lighthouse keeper in 1729, and featuring a spiral of beach stones arranged on a grassy mound.
On the west side of the island the coarse terrain and granite carns overlook rocky edges that jut into the Atlantic, marking the site of countless shipwrecks. Here the views across the bird sanctuary of Annet towards the Western Rocks and Bishop Rock Lighthouse are simply stunning, as are the sunsets.
Main Photo: Richard Smith