Holidays on Isles of Scilly: Bryher Island
Just a short hop across the channel from Tresco is the pretty island of Bryher, the smallest of the inhabited "off-islands". The east side of the island overlooks the sheltered waters of Tresco Channel, whilst the rugged west coast faces the full force of the open Atlantic Ocean, making Hell Bay the perfect place for storm watching on a blustery day. Boats arrive at either Church Quay or Anna Quay (originally built by Anneka Rice in the TV challenge program), on the east side of the island, or at very low water they may use beautiful Rushy Bay at the southern end of the island.
Roads on Bryher are mostly little more than tracks, taking you past fresh produce stalls selling locally made fudge, freshly caught sea food and home-grown organic vegetables. Bryher's resident artist, Richard Pearce, has two outlets – the original Golden Eagle Studio (historically used to house the rowing gig of the same name) and a new gallery and craft shop next to the new Bryher Stores, just a short walk from the islands' quays.
Great dining can be found at Fraggle Rock cafe & bar, Vine Cafe or the luxury Hell Bay Hotel (booking essential for evening meals).
Green Bay, just to the south of Church Quay, is a tranquil and sheltered spot favoured by visiting yachts happy to dry out in the shallow waters. Here you can sample take away pizzas several nights a week, served from a wood fired oven in the garden of Samson Hill Cottage.
Like Tresco, the northern end of Bryher is high and rugged, culminating in the impressive granite mass of Shipmans Head.
Samson Hill marks the southern end of Bryher – why not climb up and admire the fabulous views across to Samson, the Norrard Rocks and west to Bishop Rock Lighthouse. Close by, Rushy Bay is a sheltered cove on the south side opposite the uninhabited island of Samson. Pristine white sands as well as private alcoves amongst the marram grass make this beach a favourite to islanders and visitors alike. The water here is very calm, shallow and clear - a perfect day out for the family where children can play contentedly at the shoreline (the bottom is sandy rather than rocky here) and parents can relax in the sun.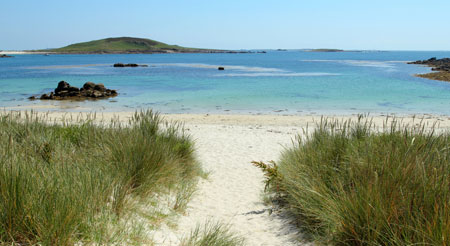 Other beaches on Bryher include Stony Par and Great Par, Popplestones Bay (great for shell collectors) and Bar beach.