Holidays on Isles of Scilly: About the Islands
Welcome to the Isles of Scilly – one of the most stunning places in the world and the perfect choice for your next family holiday.
Our island paradise is situated 28 miles south-west of Lands End, Cornwall, an archipelago of five inhabited islands together with over 100 uninhabited islands and rocks. 2,000 inhabitants are lucky enough to call the Scilly Isles their home, spread between the largest island, St Mary's, and the four "off-islands" of Tresco, Bryher, Martins and St Agnes.
The Isles of Scilly is a place of striking contrasts, from the rugged beauty of Hell Bay on Bryher, exposed to the full force of the Atlantic Ocean, to the clear waters, white sand and tranquillity of Pentle Bay on Tresco.
The islands make a perfect holiday haven, a place where you can't help but unwind, relax and recharge. As one of our regular visitors says "for relaxation, a day on the Scilly's is worth three days anywhere else".
If you're in search of a little more however, in addition to the stunning environment, clear seas and fresh air, you will find a thriving arts and crafts scene, fine dining and a wide range of activities – so you can relax as hard as you like! Sailing, windsurfing, kayaking, snorkelling & diving with seals, R.I.B safaris, walking, horse riding, golf and bowls are just a selection of the activities available. CLICK TO SEE MORE DETAILS
Above all, the islands have all the ingredients for a perfect holiday; the preferred location for A-List celebrities and 30-year veterans alike.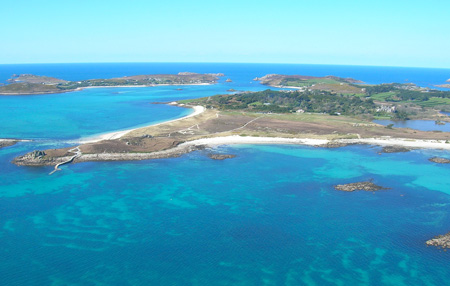 All of the islands are different, with their own character and charms – why not take time out to explore and find that perfect beach, ancient ruin or waterside eatery?