Holidays on Isles of Scilly: St Martins Island
St Martins, the third largest of the islands, is also the northern-most, and the first land you will see when arriving by sea or air, with its distinctive red & white striped Daymark.
Some two miles long, it boasts some of the finest white sand beaches in the British Isles, with clear blue waters lapping the sheltered south-facing shores. Whilst on the northern side of the island, purple heather moors and bright yellow gorse look down over the steep granite cliffs and secluded coves.
There are three settlements on St Martins; Higher Town, Middle Town and Lower Town, spread out along the self-built island road, and home to some 90 inhabitants. Two quays, serve St Martins, positioned either end of the road, and approximately a mile between.
The Post Office & General Store, a gift shop and gallery, award-winning St Martins Bakery and Adam's Fish & Chips, Polreath Tea Rooms, little Arthur Cafe and the St Martins Vineyard are all to be found at Higher Town, whilst at Lower Town you will find the Sevenstones Inn public house, luxury St Martins Hotel, Fay Page's jewellery workshop and Lower Town Gallery.
St Martins Dive Centre offers snorkelling trips with the friendly Atlantic grey seals, or sign up for a BSAC approved course.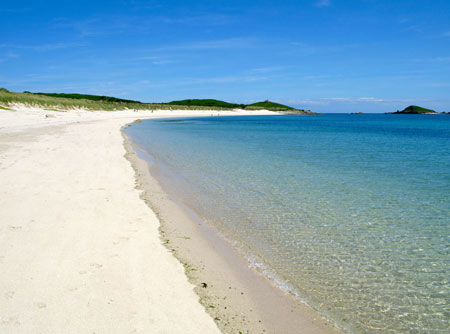 The three main beaches on St Martins are Par Beach, Lawrence's Beach and Great Bay. Par Beach adjoins Higher Town Quay, a perfect crescent of sand with clear waters, safe swimming and great views across to the uninhabited Eastern Isles. Lawrence's Bay stretches from Lower Town to Higher Town, a vast expanse of gently shelving sand with calm shallow waters. Great Bay, on the northern side of the island, is beautiful and remote, recently voted Best beach in the UK, and listed in the Rough Guide's Top ten Beaches in England.
Main Photo: Richard Smith