Laundry Service
We operate Scilly's only commercial laundry, servicing both commercial and domestic customers from our new purpose-built facility at Porthcressa Beach.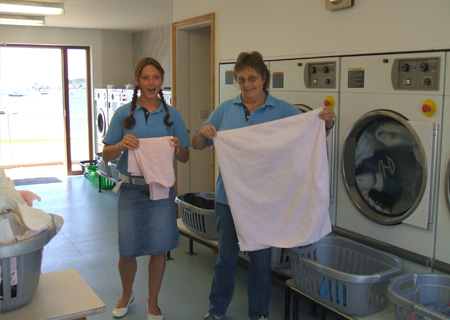 Our welcoming and friendly staff are available six days a week, from 9.00 am until 5.00 pm.
Our highly competitive prices for 2012, inclusive of VAT, are as follows:
Wash, dry & fold: £11.25
Wash & fold only: £8.95
Dry & fold only: £8.95
Duvets & blankets: £13.95
Kingsize duvets: £15.75
Conditioner: £0.90
We operate a service-wash only, with loads up to 10kg dry weight, and always do our best to turn around your laundry the same day. Our standard tariff includes wash, tumble dry and fold. Laundry can be collected and delivered for a small charge if required.
Whilst our trained staff take the utmost care of laundry in our charge, we cannot take responsibility for items that are unsuitable for laundering in commercial washing machines and tumble dryers. If any of your garments require special treatment (e.g, cool wash, no tumble dry, etc), please advise us beforehand.